Jul 11
27
By Shannon Paasch aka The Recycle-ista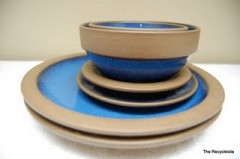 Okay, I've made you wait long enough.
So Sunday, I was in a town that I'm not normally in and we were dropping something off at someone's house. Errand done, we noticed an estate sale just winding up right around the corner. There was a big dumpster out front, and some items on the driveway. As we approached, the people running the sale very tiredly said, "The items out front here are free. We are just so DONE."
It was mostly canning jars and such, but there were a few odds n ends and so we poked around. Hubby grabbed a huge vintage Lazy Susan that is a nice solid, stained wood piece. That's his deal, but I can see its usefulness. He also grabbed a cool vintage brass bowl.
Then I saw a stack of dishes. Checked the mark on the bottom and after turning it around a bit, I made out "HEATH". Sweet!
Heath Ceramics was started in California by Edith Heath in the 1940s. Some of her designs are in the Museum of Modern Art in NYC.